Lifting Device Chains
Lifting Chain Series
PEER Chain is an industry leader in the chain industry with over 50 years of experience. Our long-standing industry presence and dedication to outstanding customer service set us apart from the competition.
If your business needs to move heavy objects, PEER Chain's lifting chain series can help you get the job done every time. Used in a variety of applications, the lifting chain is part of a simple machine called a hoist that leverages the power of physics to move very heavy objects from one place to another with ease.
Lifting Chain Solutions
At PEER Chain, we carry many different sizes of lifting chains, and we are prepared to help you find the right product for your industrial applications. Not sure exactly what you need or how to measure? Contact our customer service department today, and we will walk you through the process to make sure you get the right parts for your project.
PEER Chain offers many types of chain products. Though we specialize in roller chains, the most popular type of chain, we also carry various lifting chains. Used in a variety of applications, the lifting chain is a standard in many businesses that need to move heavy objects from one place to the next. If your business uses a hoist, you probably need lifting chain solutions.
The lifting chains we carry at PEER Chain operate over a sheave that is engaged through the use of a motor or hydraulics. The first known hoist was assembled in the 1800s, but historians believe that they had to have also been used in the time of ancient Egypt during the building of the pyramids. Obviously, technology has improved since ancient Egypt. PEER Chain's commitment to quality is evident from the time you pick up your first product there.
Even when you can't see a physical lifting chain, the chances are that if something heavy is being moved by a forklift or lift device, this type of chain is likely to be involved. Hoists move heavy objects from one place to another with minimal human effort. From ports to warehouses of every size, lifting chains do the heavy-duty work that keeps our customers' applications running. Constructed of a series of plates and pins, PEER Chain's lifting chains are engineered with a high degree of precision.
If lifting chains are used that are not suitable for your application or load, you run the risk of premature wear and potential failure. Therefore, any damaged or defective chain on your equipment should be replaced immediately, as it is a serious safety hazard due to the pressure that is exerted on the chains when they're bearing a heavy load. Moreover, maintaining your equipment minimizes downtime and lost revenue due to equipment failure or breakdown.
Lifting chain solutions are perfect for use in the following industries and applications:
Shipping containers/port applications: Lifting chains allow you to move heavy machinery and containers with minimal effort.
Warehouse: Lifting chains will keep your forklifts running smoothly, minimizing downtime due to broken or worn-down equipment.
Boat lifts: Use PEER Chain lifting chain to lift large boats with ease. Additional ProCoat Technology can be used to minimize wear in a corrosive environment like seawater.
Car lifts: Perfect for application in body shops and garages where a lifting chain is needed to ensure cars and other heavy items are moved safely and effortlessly.
These are just a few of the industries and applications that benefit from the lifting chains in the vast catalog of products imported by PEER Chain. The possibilities are endless when you choose PEER Chain's lifting chains for your industrial applications.
Applications for Lifting Chain Industry
Shipping Containers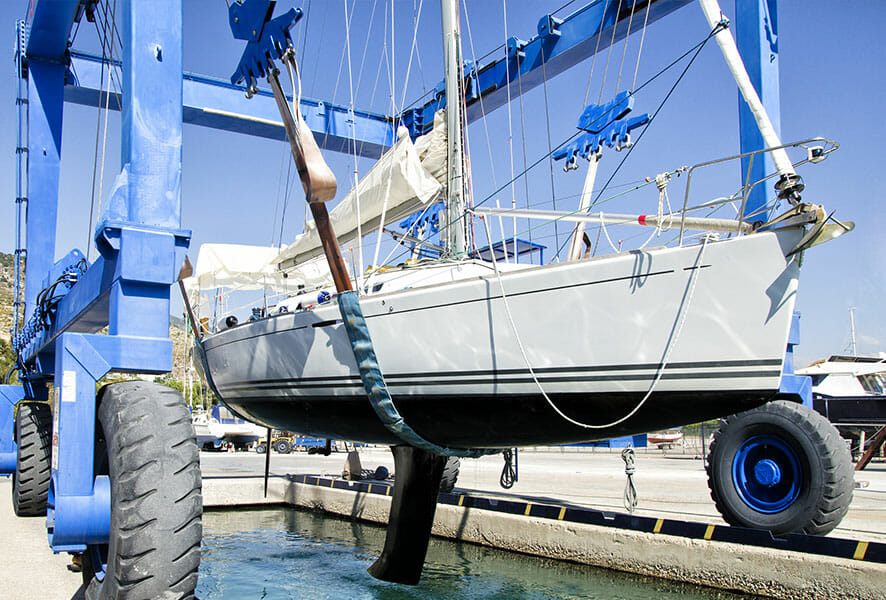 Boat Lifts
Warehouse
Car Lifts
Is Lifting Chain Right for Your Operation?
How do you know if PEER Chain's lifting chain is suitable for your application? If your business requires strength and performance in extreme conditions and uses hoists to move items from one place to the next, you likely need the power and performance associated with PEER Chain's lifting chain.
Hoists have been around for a long time. Their ability to move items with ease is rather remarkable. The strength required to lift thousands and even tens of thousands of pounds around a factory floor is extreme, which is one of the reasons lifting chains are such an essential part of manufacturing today. You can find heavy-duty lifting chains at use in a variety of different applications, such as moving shipping containers at the port, lifting heavy loads such as boats and hauling heavy materials within warehouses with forklifts.
If you have a business that uses lifting chains, you undoubtedly want your equipment to work properly every time. When you purchase PEER Chain products, you can take comfort in the fact that our lifting chain will function in a variety of environments.
PEER Chain lifting chain is performing well throughout the world in hot, cold, wet and dry environments. We offer ProCoat technology for lifting chain use in highly corrosive environments, such as seawater. This innovative solution will keep your equipment running longer and minimize downtime and lost revenue due to equipment failure or maintenance.
Lifting chains are durable and versatile for many lifting applications due to their construction and high tensile strength. PEER Chain offers both the AL Series Leaf Chain and ANSI Standard BL Series Leaf Chain. Both are constructed with stacked plates and pins to provide a superior high-strength product for all your lift applications. Within each series, we have a variety of sizes of chains. PEER Chain's leaf chains can be cut to your specified length. Long, short or in between, it doesn't matter — we have all of your lifting chain needs covered. If you need anchors of clevises to accompany your lifting chain, our helpful Customer Success Ambassadors are here to discuss your specific needs.
Showing all 2 results
How is PEER Chain Different?
Although PEER Chain is one of the largest manufacturers of chains in the United States, you won't feel the size of our organization when you experience our unmatched customer service and commitment to product quality. We are committed to getting it right for our customers.
We also have hundreds of types of chains and sprockets in our vast catalog. Need an odd size chain, roller, or sprocket? We likely have it, or produce it custom to your specifications. You will receive a personalized estimate from our knowledgeable sales team.
What's more, we don't just make products and pass them on to our customers. We are committed to providing a quality product at a good price. At PEER Chain, we take the time to perform various tests on each item we provide to our customers. Each chain and attachment goes through rigorous testing and meets internationally accepted standards such as those set by the American National Standards Institute (ANSI). As a result of our extensive testing and commitment to quality, PEER Chain can guarantee that our lifting chains will fit your project and work seamlessly, no matter the application. They will also last longer than chains that are not manufactured based on these specific requirements.
At PEER Chain, we test all of the products we stock for our customers for:
Wear life
Fatigue rate
Length and other standard measurements
Hardness
Our extensive testing procedure has allowed PEER Chain to remain a leader in the chain industry for over 50 years. We continually review our testing and manufacturing processes to confirm that every shipment that leaves our warehouse meets our requirements.
Don't Settle For Subpar Products — Choose PEER Chain
For generations, leaders in manufacturing, agriculture, and other industries have looked to chain systems as a way to transfer the power needed for their toughest applications. In warehouses with forklifts or in port applications where heavy items are moved, PEER Chain has been a part of the solution for over 50 years. Are you ready to learn more about the various types of stainless steel roller chains and how they can be used for your unique applications, even where corrosion is a concern? If so, contact PEER Chain today at (888) 630-9783 or via email at [email protected] for more information.
We have worked with lifting chains, roller chains and accessories for more than a generation, making it our goal to provide exceptional customer service and proactive support for your purchase. Our professionals make sure that all chains leaving our facility have been tested and are of the highest possible quality and that your order is completed and shipped out promptly.